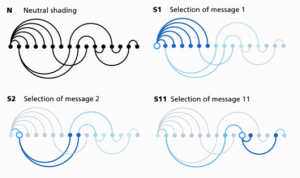 E-mail is an integral part of both personal as well as professional correspondence in today's world. By extension, a thorough and in-depth analysis of personal e-mail correspondence could provide interesting, useful and perhaps even surprising insights regarding our communications and usage behaviour of this medium. Unfortunately, current e-mail clients provide only limited support for this kind of analysis. Prior research has explored the potential of this idea (e.g.[1], [2]), but the required tools are limited in their accessibility or availability. The goal of this research topic is to develop a tool for analysing and visualizing patterns in personal e-mail correspondence.
Recommended prior knowledge: Programming language, tools and frameworks can be freely chosen. Prior knowledge in relevant standards (IETF RFC 822, 2822, bzw. 5322), transfer protocols (POP, IMAP) and (client-side) storage formats (mbox) are recommended.
Please apply via email to deco-teaching@inso.tuwien.ac.at with a short statement about your background and interest related to HCI and this research topic.
[1] http://www.cs.umd.edu/hcil/emailviz/links.html
[2] https://flowingdata.com/2008/03/19/21-ways-to-visualize-and-explore-your-email-inbox/