Team Nimble from our hackathon event "Helpathon" (for creating innovative solutions for individuals and groups in need) are working on projects in cooperation with the Red Cross Vienna. Team Nimble is looking for your support regarding their newest project, called "Nimble Building Days", which we like to share with you: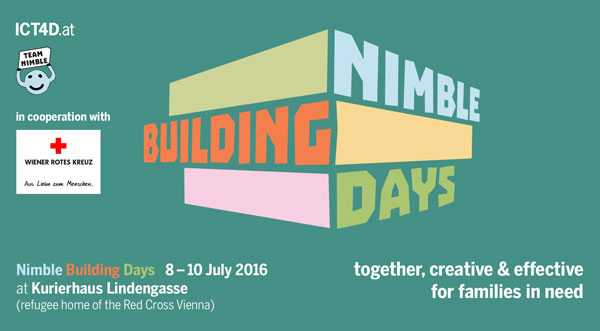 "More than half a year ago we participated at the Helpathon TU Vienna. After winning the 2nd price we decided to continue the work on our concept. So we moved on and started to meet the organising team of the Red Cross Vienna to gather more information. Also we met the teams of two refugee houses in the Vordere Zollamtstraße and in the Lindengasse.
What we learned after hours of research and numerous talks was a wide overview of the variety of challenges the Red Cross faces every day in the refugee houses. Some are big, some are smaller but often the staff can't solve even the smallest problems because they simply don't have enough time or the problems are too specific.
That's why we came up if a new concept: Organise an event where volunteers and refugees work together to solve as many of those big and small problems as possible.
The Nimble Building Days take place on July 8th, 9th and 10th in refugee home Kurierhaus Lindengasse of the Viennese Red Cross.
Now we are looking for support! Participate in the Nimble Building Days or make a donation on their website! Send us a private message on our Facebook page or write an email to office@ict4d.at.
Find out more about the project on our event page or visit our website."
~ Team Nimble